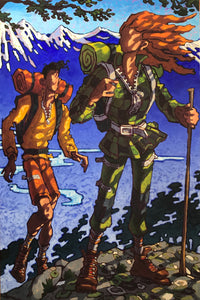 Original painting 1m x 1.5m x 4cm
The magic of arriving to your campsite at the top of the hill with the late afternoon sun rays streaming through the majestic beech trees. Admiring the view of the valley below with mighty mountains rising beyond makes the climb feel worthwhile. 
In this painting the contrasty light of crisp clear mountain air is emphasised by extra deep shadows and vibrant highlights. 
Sirpas technique is based on rich layers of color on textured canvas. The carefully selected under color for each tonality of light gives the paintings an air of depth.