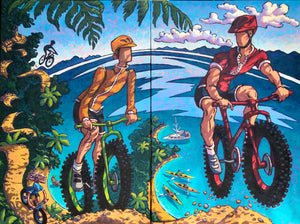 Total size 2m x 1.5m in diptych format.

This impressive size double painting will give you the feeling of being up there yourself, looking down to the bright turquoise waters of the bay from the winding trail amongst the fern trees on a hot summers day. The vibrant but warm colours of this artwork will open a window into the outdoors and brighten up your living space. 
Sirpas technique is based on rich layers of color on textured canvas. The carefully selected under color for each tonality of light gives the paintings an air of depth.