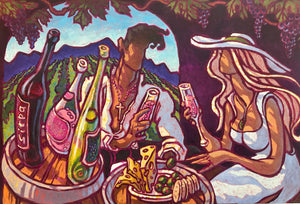 Older original 1m x 1.5m x 4cm
In this painting Sirpa has captured the ambiance of a secret wine tasting moment at the cellar door at sunset.  A celebration of voluptuous forms in fuchsia tones is just right to set you in the mood for some pre dinner drinks or indulge yourself in the various options of luxurious wine tasting opportunities Marlborough wineries have on offer. 
This painting has now been altered. Less pink, still maintaining the sunset feel.