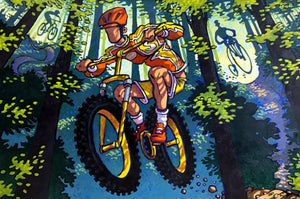 Original painting 1m x 1.5m x 4cm
Racing downhill in cool shady beech forest is exhilarating. Lucky that bicycle was invented, and the wheels now are even sized and tyres thick and knobbly. 
This painting will be on display at the newly opened Hardy Street Schoolhouse in Nelson , specialising in mountain bikers accommodation. 
https://hardystreet.co.nz
Sirpas technique is based on rich layers of color on textured canvas. The carefully selected under color for each tonality of light gives the paintings an air of depth.