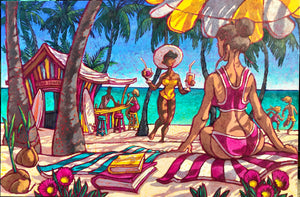 Original Sirpa Painting. 150cm X 100cm x 4cm
Impressions from the tropics where life is easy and there's nothing to worry about.
Capturing the atmosphere of cool shade under a palm tree with dabbled light effect. With this masterful technique of light and shade Sirpa has again created a feeling of being present, right there on a white sand beach, by a turquoise sea, enjoying a cocktail with the girls.
With crisp colours of hot pink, cool turquoise and tangy yellow dominating in this piece, it gives you a feeling of freshness and invigorating lust for life.
Sirpas technique is based on rich layers of color on textured canvas. The carefully selected under color for each tonality of light gives the paintings an air of depth.