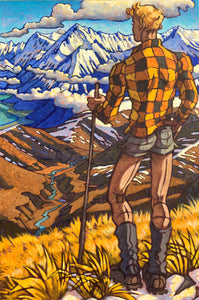 Original Sirpa Painting. 150cm X 100cm x 4cm
Reminiscing the old times. On arrival to New Zealand, the first impressions were how magnificent the southern landscape was and how awesomely short the mens shorts were.
This painting is as much a landscape painting as it is a study of a person, typical to Sirpa's work. 
Sirpas technique is based on rich layers of color on textured canvas. The carefully selected under color for each tonality of light gives the paintings an air of depth.