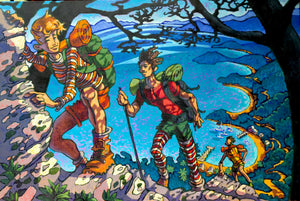 Original painting 1m x 1.5m x 4cm
Tramping is a national sport for kiwis.
A climb up to the tops of the ridges behind the bays is worth the hike. The effort rewards you with gorgeous views of the Marlborough Sounds. Along the route walking through towering beech forest provides you with some welcome shade. Upon reaching the tops you are greeted with protruding rocks and a drop off on the other side,  that make evident the massive earth movements of the past.
Sirpas technique is based on rich layers of color on textured canvas. The carefully selected under color for each tonality of light gives the paintings an air of depth.