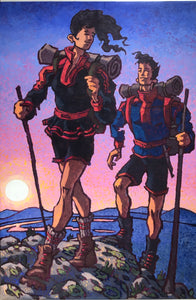 Original Sirpa painting 1.5m x 1m 
In Lapland where the sun doesn't set and treeless fells are open for hikers to wander without tracks, without time limits, one can feel the ultimate freedom and remoteness from busy life. 
This item is on display and for sale at Hotel Hullu Poro, Levi, Finland. 
Shipping available worldwide. 
Finnish