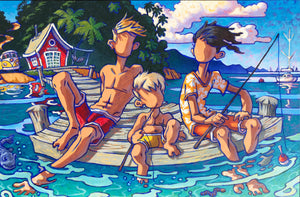 Original painting. Acrylic on canvas. 100cm x 150cm x 4cm
A perfect day in the Marlborough Sounds, summer holiday full of adventures, this is what the best childhood memories are made of.
*This artwork is in the artists Premium Series as one of those favourite pieces where she feels she has captured the moment just right. 
Sirpas technique is based on rich layers of color on textured canvas. The carefully selected under color for each tonality of light gives the paintings an air of depth.